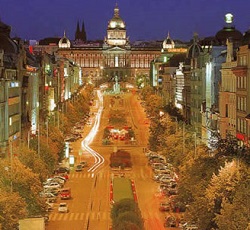 Wenceslas Square is today the modern, bustling centre of Prague where tourists mingle with well-dressed businessmen, angry taxi drivers, the homeless, Czechs trying to do their shopping and every other kind of people. It is named after the man on the horse at the top of the square, St Wenceslas, Bohemia's patron saint and known from the Christmas carol "Good King Wenceslas." The square was built in 1348, and originally referred to as the Horse Market, but almost nothing remains from its beginnings. Instead, most of the architecture dates from the 19th century or later.
The square is traditionally also a site for demonstrations and political events. In the 15th and 17th centuries it was the stage for violence between Protestants and Catholics. At the end of WW1 in 1918, the new Czechoslovak Republic was proclaimed here. In 1939 tanks rolled over the square as the Nazis invaded, and during the occupation it would see weekly marches of SS troops and fiery speeches by the regime's representatives. In May 1945 shots were fired again, as the city was liberated. Just three years after, the Communist coup d'état, "Victorious February" was announced here by the party's leader, Klement Gottwald, standing on a cart with a megaphone. Violence returned in 1968 as Warsaw Pact forces moved in to crush the reform movement known as the Prague Spring. The following year, in January, two students burned themselves to death in protest. In 1989 huge demonstrations here would eventually lead to the toppling of the regime.
Today it is mainly a place for shopping, but it also caters to the tourist industry with hotels and restaurants. There are a few clubs and pubs around, although the natives keep away as the prices are according to the central location. In the evening it turns slightly seedy as various strip clubs and houses of ill-repute open their doors. However, Prague is in general a very safe city, including Wenceslas Square by night. We can take there by Segway Tour.
The eye-catching Neo-Renaissance creation at the high end is the National Museum. It houses a natural history exhibition and is by many considered to be the most boring in the city. However, it is worth climbing its steps to get a fine view of the square. Hotel Jalta, in Stalinist Baroque, was in 1997 revealed to have a huge Communist nuclear bunker beneath it. Hotel Evropa was during the Nazi occupation home to Nicholas Winton, a British business man, who saved hundreds of Jewish children from the concentration camps.