Ever wonder about the history of Segway? Specifically, who invented it, what year, how did it get its name? Many Segway enthusiast and tourists often ask the same question repeatedly, so Prague Segway Tours iSegway (iSegway.cz) will shed some light on the history of Segway PT.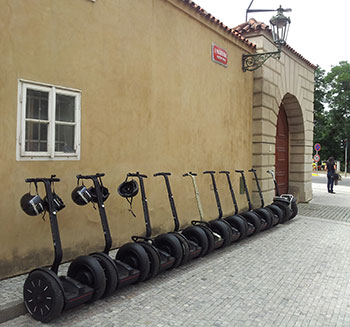 Segway was invented by Dean Kamen , and was first shown to the public in 2001 by ABC 's Good Morning America program. It came at a time critical time in American history where the country was still yearning over the tragic events of 911. Then, along comes Mr. Dean Kamen to demonstrate this unique invention intended to revolutionize how people travel throughout public city streets. How did he come up with the name Segway, you ask? The word Segway is remarkably close to the word "segue" which means "smooth transition from one thing to another." In this case, it meant the adoption of "Segway" which will transport people of all ages around the world smoothly and seamlessly.
The Segways uses 5 gyroscopes (mounted rotating wheel and it's axis that are free to turn in any direction) to enable the Segway to obtain "self-balancing" which David Kamen's team coined the phrase—Dynamic Stabilization. Along with gyroscopes, the Segway also has tilt sensors that monitor the user's center of gravity 100 times per second, giving the rider a feel that they're gliding on air.
The Segway weighs about 30 kilos or 65 pounds. It can operate up to speeds of 20.1 km/h (12.5 mph), and consists of 2 horsepower (1.5 kW). The Segway was commercially available for purchase in 2003 with 3 different models, but in 2006 Segway launched their i2 and x2. The x2 is designed for travel on mountainous terrain, while the i2 is less wide, and may offer easier maneuverability through major cities. Additionally, the 2nd-generation of Segways now offer easier steering, as you can lean the handlebars left or right to turn the Segway. The company was sold to Jimi Heselden in 2010, but an unfortunate accident ended his life shortly thereafter.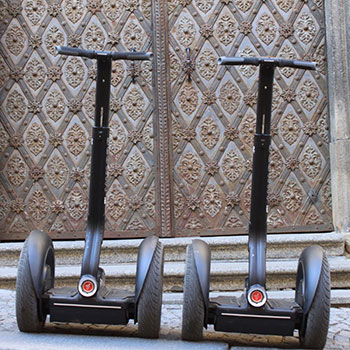 Jimi Heselden (British entrepreneur) was riding an x2 through the rugged terrain in West Yorkshire, when tragedy struck as he fell 80 feet over a limestone cliff near his home. The rugged pathway has many tree roots, and it's believed that he may have lost control of the x2 by hitting a tree root, causing his fall. Regardless, we would like to pay tribute to a man who had an extraordinary life, and one of Europe's most generous philanthropists who intended to take Segway higher than it is currently. His legacy will not be forgotten. Meanwhile, Segway continues to evolve.
Meanwhile, Segway continues to evolve with new models and new features. Segway has come along way since the first airing on ABC in 2001. Prague Segway Tours iSegway (iSegway.cz) believe Segway will not only continue to evolve and change, but will someday be the most exciting activity on the planet. Therefore, if you would like to see a fantastic city, rich in history, then Prague is the city for you. We welcome you to our great city, our doors are always open for a Segway tour of your choice. No matter your needs, iSegway.cz can provide a solution for you. Come join iSegway.cz today!