by Prague Segway Tours
Until recently, the popularity of Segway has been somewhat dampened by the enormous expectations placed on it, back in 2001 (initial launch). What was once called "IT" or "Ginger," before its actual debut name-Segway, the Segway PT expected to revolutionize the way people travel, forcing city planners to incorporate this new technology into their urban plans.
In fact, Dan Fletcher with Time.com named it one of the 50 worst inventions.
Over the years, Segway has been at the tail end of many jokes. Honestly speaking, if you're intention is to attract someone while riding a Segway; this probably isn't the way to go. However, many skeptics about the Personal Transporter are jumping on board now that the Segway is becoming socially more accepted as a choice for transport. It's understandable why the change has been a slow progression. For many, change can be awkward, scary, and unwanted for some, and for others downright frightening.
But, there are those who aren't so resistant to change, and are willing to accept new inventions and run with them, regardless of the naysayers. "If people give it a try, they will be hooked. It's that simple"!
"Prague Segway Tours iSegway" operates Segway Tour business in Prague, and first opened doors last year(2012). We are happy to see transformation. "Segway is becoming more socially accepted. But, there's still a lot of room to go. We feel with the passing of each New Year, it will become not just an activity, but an actual Social Event in the near future. We are aware there will be challenges along the way, but with the popularity continuing to rise, it will become increasingly difficult for legislation to limit them forever as such the case, in the UK.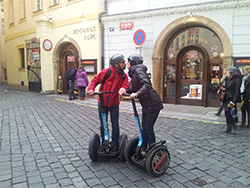 Segway has always been at the forefront of "what is it" from a legality stand-point-of-view. The UK has strict rules and has banned Segways on city streets. There are others too, but then there's the other side. Commercial businesses, municipalities, and the like, are beginning to see Segways are having a positive impact. NYPD, who often use bicycles to patrol parks and city streets, are now opting for Segways instead. It also gives the police an increased presence by virtually being higher off the ground than those they encounter. A feeling that could possibly make a citizen seem more safe. Commercially, more and more energy companies are using them in place of cars and vans, due to their maneuverability in and out of difficult neighborhoods. Nevertheless, Segways (where many thought were nerdy looking devices that only tech geeks would consider using), are now becoming more socially acceptable. There seems to be a paradigm shift occurring with the Segway at this very moment.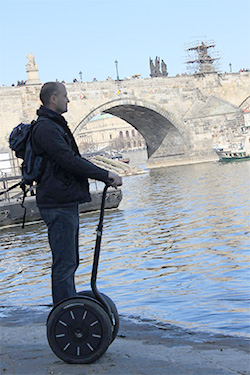 Not only are Segways resonating within the commercial sector (Law Enforcement agencies around the world continue to purchase more each year), but they are blossoming in the tourism industry as well. With virtually so many tourist's destinations and hot spots, most tourists (cameras in hand) alongside their friends and family, are looking for something a little more than your average site-seeing tour. The Segway allows them this freedom by taking these types of tours to a whole new level. Tourists want to see as much, in as little time as they can. The Segway PT can provide them with this and more. It not only allows you to visit sites in half the time, but it's a blast to ride! Segway Tour companies are popping up all over the world to give tourists a more unique experience than the traditional tour guide holding an umbrella, walking round using a megaphone, using monotone voices day in, day out.
That's the reason we got into the business. We wanted to give tourists a little something more. I think we at Prague Segway Tours iSegway have accomplished in doing just that. So come join us if you're ever in Prague. We will ensure you the utmost in professionalism and a Segway tour you won't soon forget. Ciao!